Healing the Arm of a Child
Our children in Haiti have almost nothing in this world but the clothes on their backs, so they are always thankful and grateful for the time we spend with them. A while ago, a group from St. Paul's Methodist Church from Brick, NJ, spent a week reenacting Bible stories, working with arts & crafts , playing foutbòl (soccer), and providing a wonderful meal of rice and fish to fill their hungry stomachs.
While our girls group was washing their hands, Ismayna (one of our very small 9-year-old girls) slipped and fell to the ground screaming in pain.
She was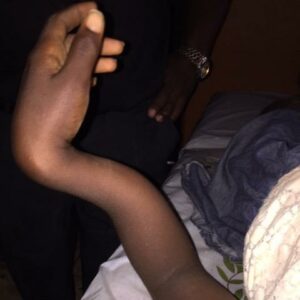 rushed to Allyn, our medical director, with both bones in her left arm in a terrible compound fracture. Joseph Israel, Frantz, and Allyn rushed her to Ouanaminthe, a large neighboring city, to an orthopedic doctor. After sedating the child (and with Joseph & Allyn's assistance) the doctor pulled her arm with all his might to realign the bones. He then cast Ismayna's arm and the wonderful & gifted African doctor charged us the equivalent of $41 US dollars for his amazing work. He instructed us to have the arm X-rayed the next morning to be sure the bones stayed aligned. In the darkness of night Allyn and I took her to her small hut deep in the bush south of L'Acajou.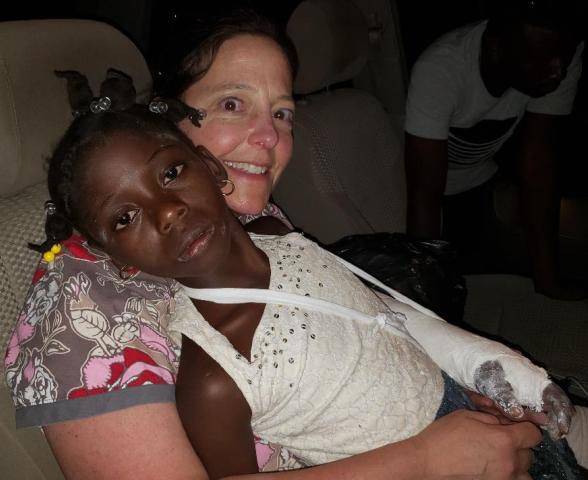 Our Haitian children are deprived from conception of many of the nutrients and vitamins they need for their bodies and bones to properly develop. Although this is the first time we've had an accident like this, these are common occurrences in Haiti. Many families like Ismayna's don't have $41 to spare, so had this happened to her anywhere but at Aslan, Ismayna would probably have been disfigured for life or died from an untreated infection caused by the severity of the injury. Thankfully, it happened with us and we were able to get her the help she needed.
Although it was a very painful process to heal, little Ismyna's arm has completely healed and she has regained full use of her arm. This is just one of the many examples of how our Clinic of Hope is providing hope and life-saving services to several hundred children & families in L'Acajou, Haiti, and surrounding tiny communities.
This was just "another day" for Aslan – trying our hardest to be God's hands to love and serve our little ones in Haiti!
Craig