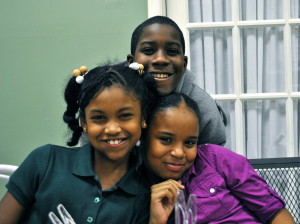 Aslan Youth Ministries is a nonprofit organization serving some of the most impoverished areas in Monmouth County, within Long Branch, Red Bank and Asbury Park, New Jersey. Since 1975, Aslan has provided community development programs with a focus on the spiritual and educational development of each child that impact and empower at-risk youth. We work with grade school and high school students and their families to have the greatest results for each child.
In 1996, Aslan was invited, and accepted the challenge, of providing life-saving services in Ouanaminthe, Haiti, located along the northeastern border of the Dominican Republic. In 2003 Aslan purchased 6 acres of land in the remote area of L'Acajou, Haiti, where we have built a medical clinic & church and grow crops on most of the land. We also have a clean water project that provides clean drinking water for hundreds of families for miles around our property.
MISSION: The mission of Aslan Youth Ministries is to provide relationship-based programs that permanently impact the bodies, minds and spirits of disadvantaged, urban children and empower them to overcome their negative environments and circumstances and become productive and successful members of society.
PHILOSOPHY: Aslan's philosophy is that meaningful and permanent change only takes place through the developing of one's character and by "learning to live" the basic principles of right and wrong on which civilization is based. In order to become a productive member of society children must learn to respect themselves and their fellow man. Each Aslan program is designed for long-term results that empower youth with the tools they need to live meaningful lives. Aslan's radical approach helps urban youth see beyond who they are at one particular moment in time. Through continual year-round encouragement and extreme adventure activities (long-distance bicycle touring, skiing, camping and Project Third World Haiti), Aslan positions children outside their comfort zones. We help them reach deeply within and overcome their fears, limitations and failures; and, with hard work and God's help, they find the strength to endure and succeed!
PURPOSE: The purpose for each of Aslan's programs is to impact the whole person. This is accomplished by encouraging youth to reach their greatest potential in relationship to their fellow man, while finding their ultimate purpose through a vibrant, living relationship with Jesus Christ. Aslan is not latchkey in nature, nor do we provide services merely to "keep kids off the streets." If children are not properly educated, do not have the opportunity to learn acceptable norms of behavior and never learn what to value in life (their own lives and the lives of others), then keeping them off the streets is of little value. Our programs include one-on-one mentoring and tutoring, character development classes rooted in Judeo-Christian values, recreational activities, summer camps and cultural enrichment programs.