Mission Trips for Families and Students
The only way it is possible to establish change in the world – whether in New Jersey or 1,500 miles away in Haiti is through building relationships. One of the ways we do this in New Jersey is through pairing young adults and adults with students who they tutor and mentor. It works exactly the same way in Haiti by taking caring individuals and families to this "forgotten land" where they become connected to our Haitian children and adults.
Although some naysayers try to distort the effectiveness and importance of short-term mission trips, Aslan has proven time and again that getting people out of the comfort and security of the United States into Haiti (one of the poorest nations on earth) is one of the most effective means of effecting change! In our 24 years in Haiti, we have not taken one person whose life was not dramatically and permanently changed. You would have to be "heartless" to encounter the kinds of needs that you see throughout this nation of 13 million souls and not be touched to the core of your being.
Throughout the year, we host mission trips for churches and individuals throughout the United States. Through Christ For The Nations Institute in Dallas, TX, students from around the world come with Aslan for 2 weeks each May to provide day camps and programs for our Haitian children and work on important building projects. Other groups from New Jersey and around the country (New York, Florida, North Carolina & Montana) have joined us for the life-transforming experience of serving in Haiti.
Contrary to what you might hear, travel to the Ouanaminthe area (Northeastern Haiti along the border of the Dominican Republic) is very safe. Aslan has served up to 36 individuals in our comfortable mission house which has tile floors and three full bathrooms (all with flush toilets). For any worriers, our mission house is very secure – gated with a high fence surrounding it and barred windows.
You don't have to travel for 15 hours halfway around the world to Africa or Asia to have this once in a lifetime experience. Through the Dominican Republic it takes about 9 hours from the New York Area to our mission house doorstep. Flights through Miami to Cap-Haitien take about the same amount of time.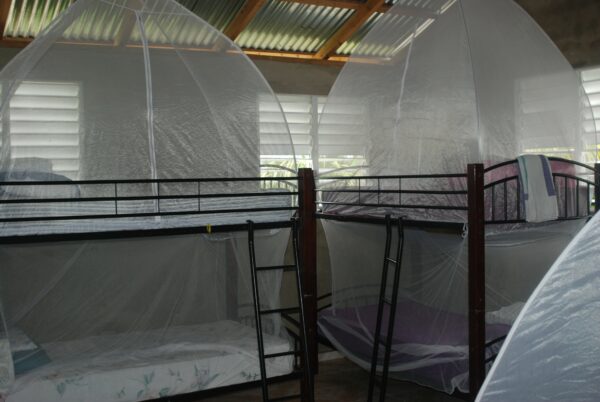 Comfortable bunk beds with mosquito netting!