Emergency Services for Families
Since our first trip there in 1996, our work in Haiti has grown to now reach hundreds of children and families. Having finished construction of a modern medical clinic, we are presently completing Legliz Maranatha (Maranatha Church). Our next project will be to start building a school for the many unschooled children throughout the remote area of L'Acajou and surrounding villages.
Aslan leadership, staff and volunteers travel to Haiti throughout the year to work on projects like constructing the clinic and school. We also provide multiple educational opportunities for our children and their families through our professional sewing school, music program, English language classes and medical services.
Everyone in Haiti lives in "emergency mode," so we also help provide urgent care through our clinic and through our personal relationships we develop with our families. Following is an interesting article about a young girl who suffered a severe compound fracture on one of our recent trips.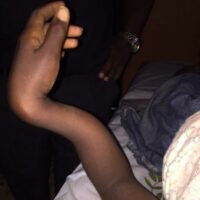 While our girls group was washing their hands on Monday, Ismayna (one of our very small 9-year-old girls) slipped and fell to the ground screaming in pain. She was rushed to Allyn, our medical director, with both bones in her left arm in a terrible compound fracture. Joseph Israel, Frantz, and Allyn rushed her to Ouanaminthe, a large neighboring city, to an orthopedic doctor. After sedating the child (and with Joseph & Allyn's assistance) the doctor pulled her arm with all his might to realign the bones. [READ MORE]