Community Development
From the beginning of our work in Haiti, we realized that God did not call us to help people escape Haiti. Because so many bright & capable individuals have left their Haitian homeland, there are now more Haitian doctors alone in Brooklyn than in all of Haiti. The same is true of Montreal. God showed Aslan early on that He was calling us to help people escape the devastation of poverty in Haiti by empowering their lives – physically, mentally & spiritually – so that they can, in turn, remain in Haiti and change their nation!
Community Cooperative
Getting people to work cooperatively is a difficult task in Haiti. Through Aslan, however, the Oganizasyon Peyizan Pou Devlopman Acajou (OPDA) has been formed and has a current membership of almost 200 women and men! This association meets weekly at our church to discuss ways to improve the lives of everyone living in the area. Three years ago they purchased a small piece of land close by, and they've since built a factory to process manyok into cassava bread.
Physically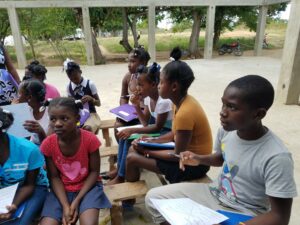 We provide many employment opportunities for people in L'Acajou. Our paid staff includes our Haitian director, Israel Joseph and our medical clinic staff (a doctor, nurse, lab technician & pharmacist). We also employ a full-time security guard in L'Acajou, in addition to Haitian masons, tile workers, builders and laborers who help us with every construction project on our property. We employ two young men as Joseph's assistants, in addition to several people who cook, clean and provide security for our mission house. We farm sweet potatoes, beans, manyok and pineapple on our six acres, and families who help us harvest the crops receive the blessing of food for their families.
For 5 years we've provided rice & beans for 90 families, and we've now provided 179 families with a female goat to provide milk & sustenance. As a part of this program, each family is asked to pay it forward by giving their first "kid" to Aslan. This helps us be able to bless many more families with goats.
Getting people to work cooperatively is a difficult task in Haiti. Through Aslan, however, the L'Acajou Association has grown from a handful of families to over 200. The association meets weekly at our church to discuss ways to improve the lives of everyone living in the area. They purchased a small piece of land close by and have built a factory to process manyok into cassava bread.
Mentally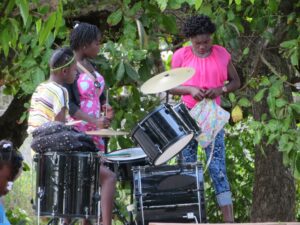 School Sponsorships: Our school sponsorship program has produced two medical doctors, three nurses, a sociologist, an agronomist and two pastors. We are currently supporting 15 children in school.
Sewing Classes: In 2018 we established a professional sewing school and our class of 17 students will graduate in June of 2020. Being a seamstress in Haiti is an honorable profession that can support an entire family.
English Classes: English is the universal language and being able to speak English fluently is a real gift that can lead to employment in Haitian banks, businesses, with the United Nations and other NGOs, and in working with the hundreds of American missions in Haiti. We established regular English classes for a number of Haitian students, and several of our students now act as translators when visiting mission teams come with us to Haiti.
Music School: We also have regular music classes with 25 of our students where we teach them to play a variety of instruments: trumpets, clarinets, guitars trombones, percussion & saxophones. Learning to play an instrument is another empowering way to provide a steady source of income in the future for weddings, parties, funerals and at churches.
Spiritually
The foundation of everything is our deeply held Christian beliefs. It is good to feed a man for the day. It's even better to teach a man to fish so he can feed himself for a lifetime. Without touching the spiritual part of man, however, all our efforts will – in the end – turn into ash. Jesus is the reason we do everything we do. We are currently completing Maranatha Church as the beacon light for every project God leads us to begin in L'Acajou. We touch the lives of over 200 children with food projects, Bible classes, day camps, sports & music programs every week during the year. Our church now includes over 150 adults and children.
Boots on the Ground
Sophia Amorski first traveled to Haiti with Aslan in 2012, as a young 13-year-old girl. What started as a one-time mission trip has over the past 8 years turned into a life calling as she's returned once or twice a year to minister to our Haitian children and families. Sophia and her good friend, Tara McCarthy, completed a 5-week internship in the summer of 2018 and 2019, and now Sophia is embarking on the biggest step in her young life.
In late March, this vivacious and bright young woman is moving to Haiti as Aslan's first full-time American staff person. Sophia will serve as a direct liaison for our work in Haiti, and she will assist Israel Joseph, our Haitian director, in administrating:
Aslan's medical clinic

Maranatha Church

Clean-water project

Food program

Goat program

Sewing school

English language classes
 The value of having Sophia serve as our "boots on the ground" in this nation of great need is simply immeasurable. We are nearing the completion of Maranatha Church, and Sophia will play a key role in Aslan's next step of starting the construction of a school. Please watch for regular updates from us regarding this huge step for Aslan!