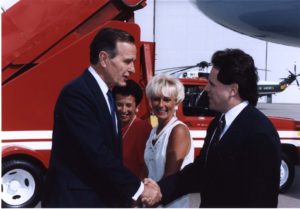 Bring Hope This Holiday Season
George H.W. Bush
1924 – 2018
Celebrate his life of service by pledging your act of service
More than 25 years ago, President George H.W. Bush inspired individuals to take voluntary action in their communities as points of light "spread throughout the nation, doing good."
On September 19, 1991, former President George H. W. Bush named Aslan Youth Ministries (Aslan) one of his 1,000 Presidential Points of Light.  Demonstrating that Aslan provided services that make a significant contribution to the betterment of society and have a lasting and permanent effect on people's lives.  Aslan was chosen for this honor from among over 15,000 worthy nominations submitted to the White House during the Bush administration. 
"As President Bush started down the steps of Air Force One at JFK to be greeted by politicians waiting to shake his hand, he looked down at us, smiled and said, 'There are my points of light ~ the people I really want to see!'  He was a true gentleman who remembered my name and took the time to thank Aslan for our service to disadvantaged children. To meet him was one of the highlights of my life," recalls Craig Bogard, President/CEO, Aslan Youth Ministries.
In correspondence with Aslan, President Bush wrote, "I was delighted to learn of your outstanding work on behalf of your community. Your generosity and willingness to serve others merit the highest praise, and I am pleased to recognize you as the 566th 'Daily Point of Light.'"
His famous "thousand points of light" speech renewed our spirit of volunteerism and galvanized the modern national service movement. His words and example, his legacy of service will endure. They resonate today and will continue to inspire tomorrow, and for generations to come.
Honor the legacy of President George H.W. Bush by pledging your time to volunteer, becoming a Point of Light in our community.  By serving, you bring to life his vision of ordinary citizens finding a "Shining Purpose", unleashing their power to create positive change. 
Find ways to get involved at www.aslanyouth.org.  We have many volunteer opportunities that will continue to honor the President and Mrs. Bush's life's work of inspiring and promoting volunteer service across the globe.
"We can find meaning and reward by serving some higher purpose than ourselves, a shining purpose, the illumination of a thousand points of light … we all have something to give."
President George H.W. Bush
Why Support this Holiday Season?
A typical Aslan child comes from a single-parent home, live below the poverty level, and have educational and emotional challenges caused by trauma.  We can't help them alone! Help Aslan Youth Ministries continue its work in saving children in need.
Ways to Support
Sponsor An Aslan Child – Keeps an Aslan youth in all programs through the year. Each sponsor is matched with an Aslan child who will write their own personal letter of thanks twice per year.  The sponsor also receives a magnet with their sponsored child's photo.
Donate Now – Choose from several holiday giving categories.