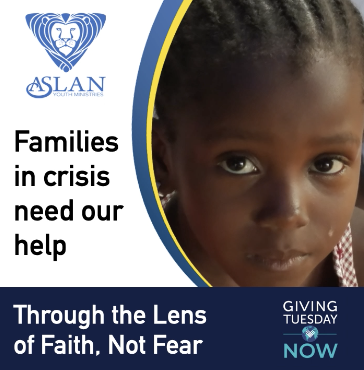 Dear friends,
It seems that COVID–19 is now the center of every discussion. It's easy for all of us to allow fear to destroy faith in us, and it is times like these when faith needs to be our anchor.  As serious as this virus is, we still want to encourage all of our Aslan children, their families, our hundreds of volunteers and our many loyal supporters to try and view this current crisis through the lens of faith and not fear.
Right now it's impossible for us to minister to our children. Because all of the churches who open their facilities to us have had to close their doors, we have no direct access to them.  So until this serious time has passed, we will continue to be in touch with our children and their families by email, text & phone. 
This is where our faith in God is put to the real test.  Rather than allow ourselves to be ruled by fear, we must – by faith – make our plans for that day soon when we'll be back together. Through Easter and Mother's Day and in between we've delivered food to our families, and many of our tutor-mentors have been in touch with several of the children using Facetime via phones and tablets.   Delivering baskets door-to-door assured us that our children continued to receive the blessing of being a part of our big Aslan family.
We are also moving forward with planning for summer camps – that very special time of year when we're able to help Aslan children keep learning over the summer months and enter each school year with a fresh start. Here again, we go forward in faith that this time will pass, all the churches will be open, and volunteers will be ready and able to help. 
These same things are true with regards to ministering to our children and families in Haiti. We are ensuring that our medical clinic is fully staffed (with emergency supplies available), our clean-water project is going forward each week to help hundreds of families with life-saving drinking water, and our church is continuing to serve hundreds of children and adults. With the border to the Dominican Republic closed indefinitely, we are also providing extra fuel money for our clinic generator and extra food money for our families.
Please remember to pray for the hundreds of children in Aslan and for all their families. And please pray for us. Our children are some of those who suffer the most during times of crisis. But we believe times like these can call children & adults alike to rely on their faith in God more than perhaps they are able to when things are going along as they normally do.
This is Aslan's 45th year of service. Over all these years, our mission and values have never drifted. Through Jesus' love, we're changing the world – one child at a time, one day at a time. We do this in a million ways. Through our relationships with these children & parents, we walk with them through thick and thin. Going through hard and scary times with them can be an enriching, faith-building time for all of us! Thank you for helping us, because we can't do it without you.
Remember all the good things that happen through Aslan every day and please continue to give.
God bless, Craig & Lynn Ann